Standard Trade Show US Exhibit Rules & Regulations
While planning your trade show booth design, you need to keep four major elements in mind (namely, linear, perimeter, peninsula, and island). Therefore, you should refer to a manual before designing or building a trade show booth. Here you can find exhibit rules & regulations based on your situation. We recommend contacting the exhibition stand contractor for more information
OTHER CONSIDERATIONS
The venue determines whether or not multi-storey exhibits can be accepted.
You may use umbrellas, ceilings, and canopy frames in your exhibit rental for decorative or functional purposes.
The majority of exhibition rules allow hanging signs, including graphics, for peninsula booths and island booths while keeping all ordinary use-of-space requirements in mind (it is usually subject to prior approval from show organizers).
It is important to remember that no fixtures, lighting, overhead lighting, or lighting trusses may be placed outside the boundaries of your exhibiting space.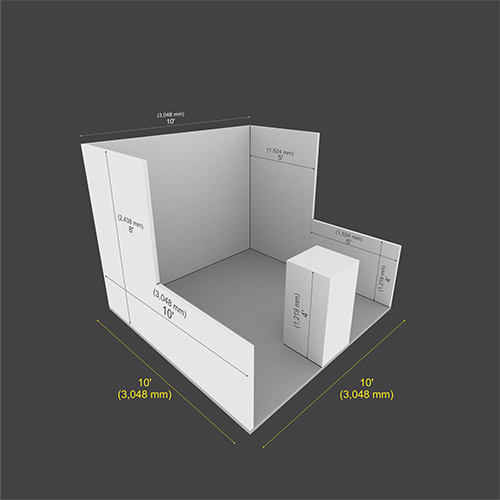 LINEAR BOOTHS
A linear booth is commonly referred to as an "in-line" booth that is usually designed and built in a straight line while putting your extreme neighboring exhibitors at your left and right allowing the single side of the trade show booth to be open. This formation can be altered to fit a corner booth allowing your trade show exhibit to be exposed from two sides (isles). Note: In this booth configuration, hanging signs are usually prohibited. The most common dimension of a linear booth is 10 feet wide by 10 feet deep, i.e. 10 feet by 10 feet (3.05m by 3.05m). Approximately 8 feet is the maximum height. Up to 5′ from the front aisle, your booth can maintain this 8′ height of the sidewalls.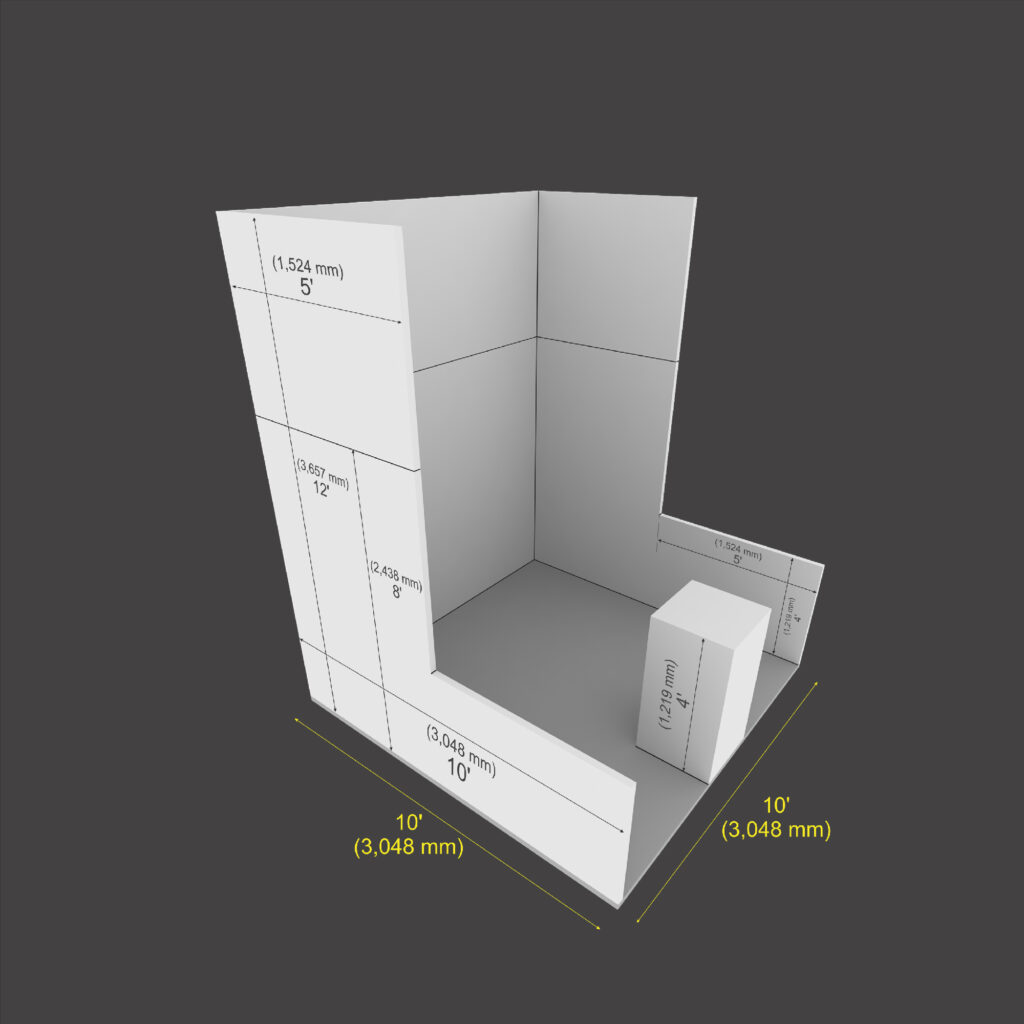 PERIMETER BOOTHS
Basically, a perimeter booth is a linear booth built against the outside wall of the exhibition facility. This is unlike a trade show booth situated directly behind you.
The maximum height for a perimeter booth is generally 12′, which could be maintained up to 5′ from the front aisle. Any remaining sidewall length cannot be higher than 4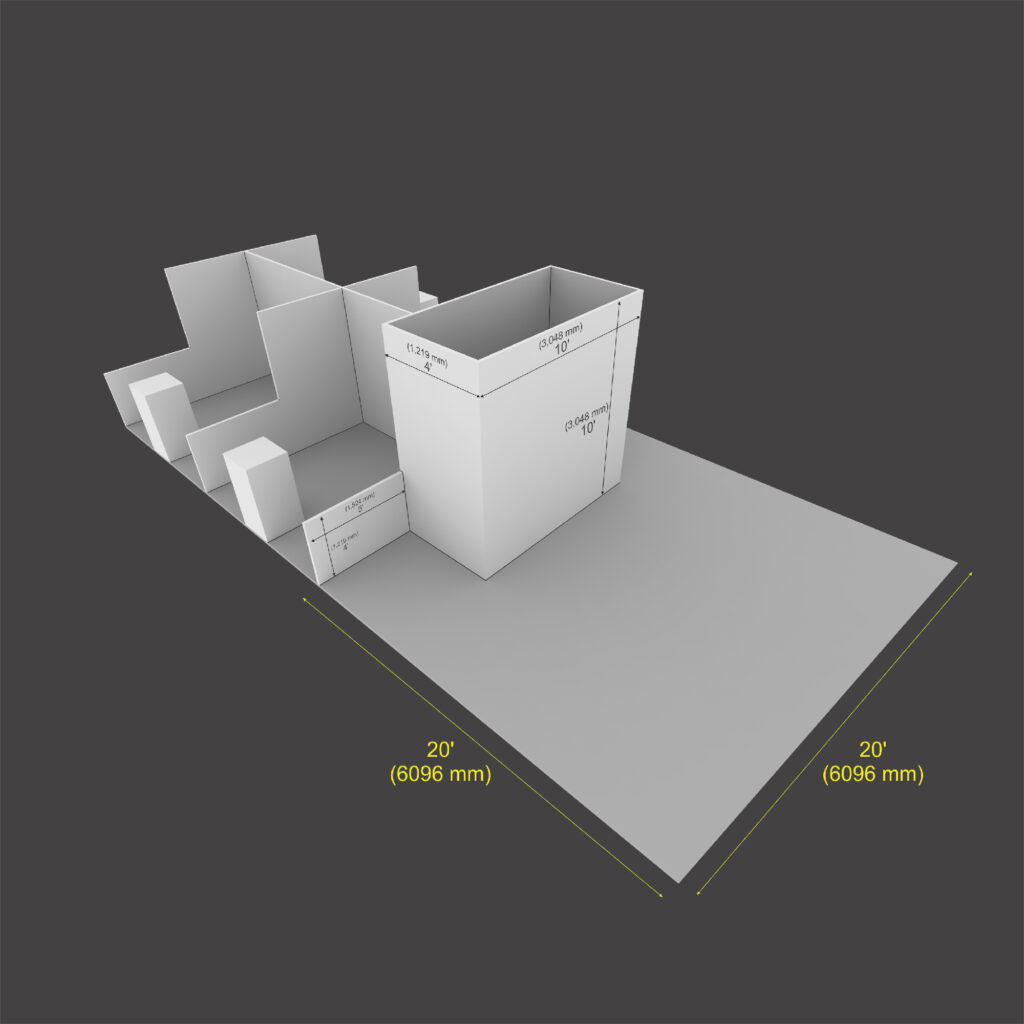 PENINSULA BOOTHS
A peninsula booth is distinguished by being uncovered on three sides of the aisle. Four booths are usually required for this type of booth. There are two types of peninsula booths to choose from depending on your needs. In official terminology, type one peninsula booths are called "split island booths."
It is important to remember that in all peninsula booths, the outward part of the back wall cannot have any logo, advertisements or identifying information
Note: Peninsula booth back walls cannot be higher than 4′ when supported by a common linear booth row at a distance of 5′ from both side aisles. It must also be 16′ to 20′ high from the center of the back wall. The height restrictions are 10 feet from the back wall. In the case of split island booths, maximum heights could range from 16 to 20 feet in each area.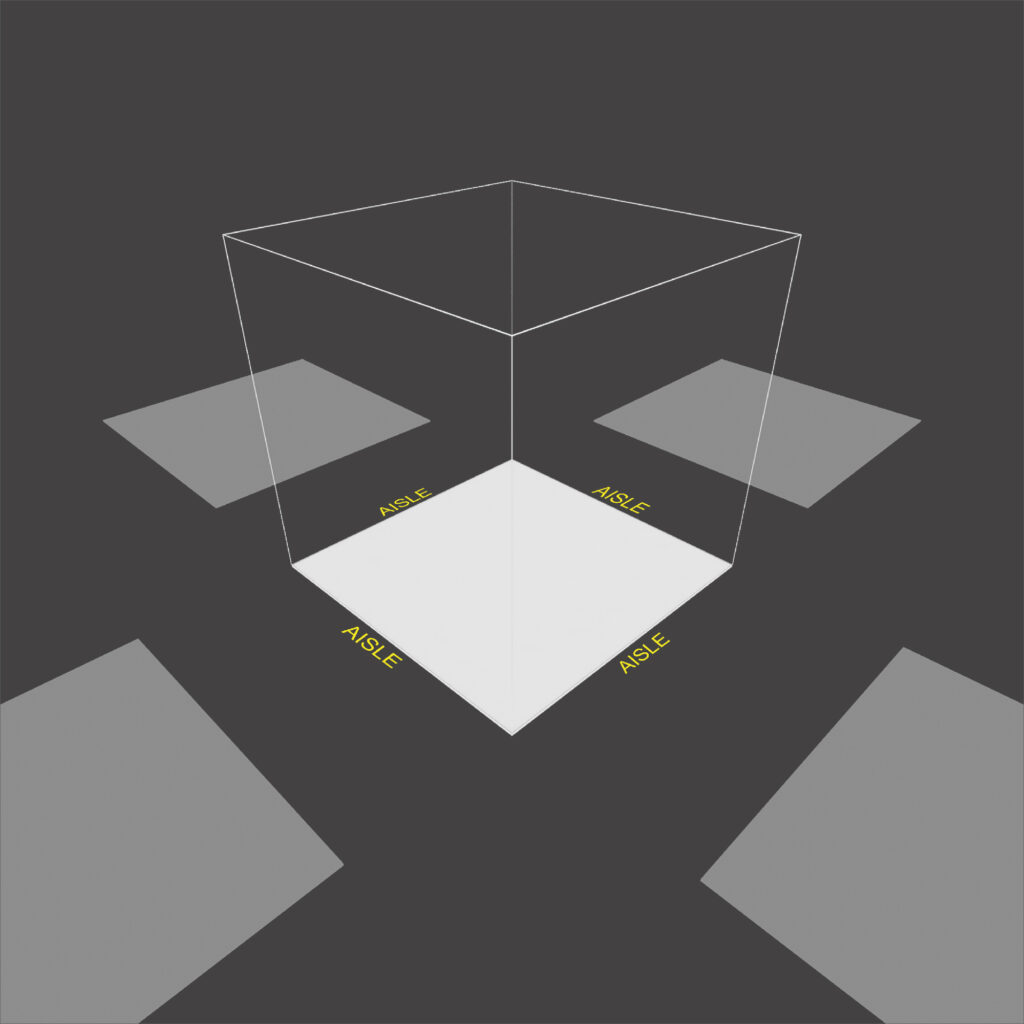 ISLAND BOOTHS
Islands booths are usually referred to as booths facing all four aisles. The size of these trade show exhibits is usually 20 feet by 20 feet or larger. All signs are included in the space up to the maximum height, which ranges from 16 feet to 20 feet.
Note: All island booths are allowed to display hanging signs.