Illuminate Your Identity By Shining Out Your Unique Trade Show Booth
With Our Lightbox Displays
Lightbox Exhibits are one of the most impressive ways to shine out your graphics while creating a huge impact on the audience on the trade show floor. This concept of trade show lightbox displays is gaining momentum in the trade show and event industry. It is well-known for creating a lasting brand impression. These custom trade lightboxes display are extremely effective to set a vibrant mood and illuminate your message to expand your brand exposure. Portable lightboxes are the perfect choice to make trade shows more engaging and captivating.
Sensation Exhibits, Your Perfect Partner For Ravishing LightBox Displays
Sensation Exhibits creates easy-to-assemble, lightweight and flexible portable lightboxes for trade shows that attract your ideal audience while standing out from the crowd. Our 20 years of expertise assist us in diving deep into the market trends and advanced technology to throw a memorable trade show experience for you! Due to the perfect build, our custom trade show lightboxes display is an ideal choice for conveying your message precisely. At Sensations Exhibits, we create an engaging and dynamic environment on the trade show floor. Moreover, we pay high attention to the dimensions and construction of the lightbox displays which helps us generate high footfall.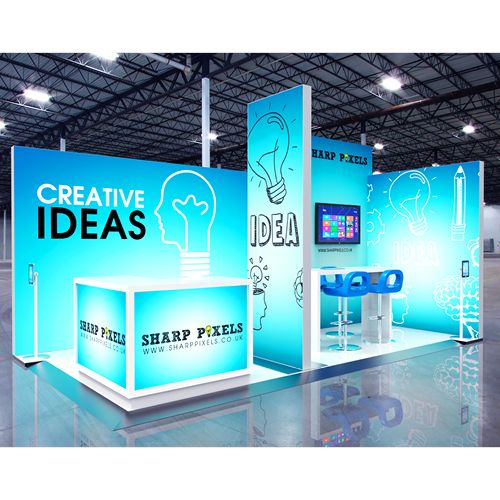 What We Are Offering?
Our highly professional team works with the sole motive of customer satisfaction. With the 24*7 assistance of our project managers, we have maintained sustainability while creating an exclusive range of custom trade show lightboxes. A variety of different sizes come along with our lightbox displays so that you can pick out the best lightbox exhibits as per your requirements. From single-sided graphics, backer panels, led lights, and frames to base plates, we offer a diversity of custom lightboxes to illuminate your brand image. By putting our best foot forward and choosing supreme quality materials, we guarantee ultra-thin and ultra-bright displays. With our custom trade lightboxes display, you'll be able to highlight your message in a super-bright, evenly-diffused backdrop.
By quickly contemplating your needs, we provide you with visually engaging lightbox displays that are pro at:
Adding a unique element to your graphics
Easy to assemble, portable and lightweight
Multipurpose range of styles and types
A wide variety of ranges to suit
Bright built-in LED lighting
Highly durable
Safe lighting