We provide top quality trade show booths rental in California!
Getting the most out of your trade show investment in California can be difficult when you are exhibiting alongside hundreds of exhibitors, so you must make every effort to gain the most out of it. A creatively designed trade show booth in California is your primary asset and center of attention. A well-crafted trade show booth can make your show as successful as it can be. When it comes to designing a trade show display in California, you need an experienced and reliable exhibit rental company. This is where Sensations Exhibits comes in.
For more than 20 years, Sensations Exhibits has been a leader in California trade show exhibit design, manufacturing, and service. As a leading supplier of trade show displays, Sensations Exhibits has changed the look of trade show floors throughout California and beyond. Right from designing your booth to installing and dismantling it at the fairground, we provide you with a complete package of services in California.
We invite you to explore more about our services below. If you have questions, please call us on +1 725-214-4524 or email us at info@sensationsexhibits.com. Let's create a trade show exhibit rental in California that resonates with your brand and attracts more attendees.
Count on Sensations Exhibits for booth design in California
Providing best-in-class professional services in the design and management of trade show programs for companies of all sizes in California, Sensations Exhibits is a trusted name in the industry. We offer everything from a simple 10×10 trade show display to a complete solution for your biggest show of the year in California. The range of industries we have worked with over the years includes IT, Food, Bio-Tech, Manufacturing, Retail, Fashion, and many more. In order to design the right trade show exhibit rental in California for our clients, we take the time to understand their trade show objectives and goals.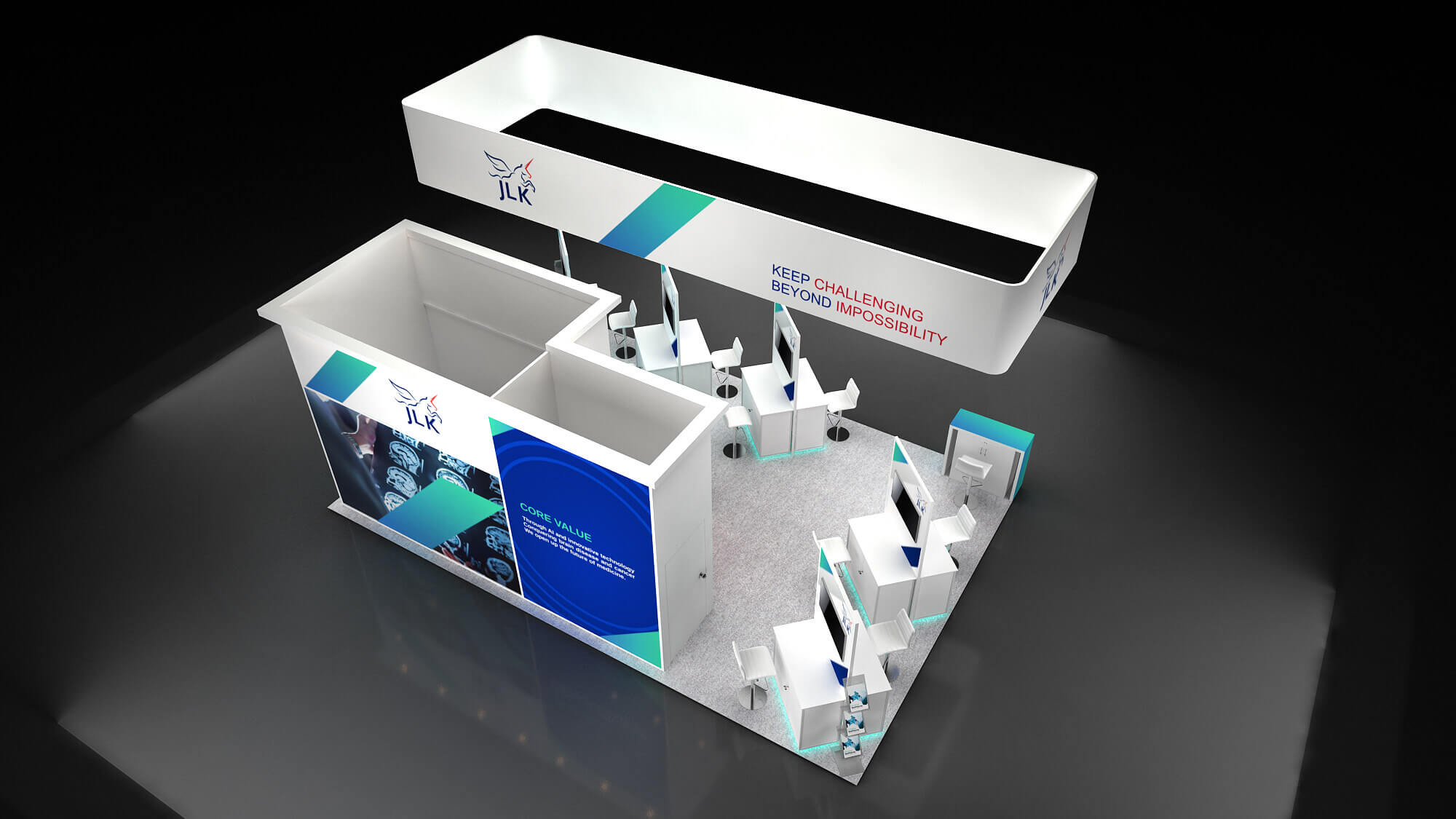 Get the perfect trade show exhibits in California for your business from Sensations Exhibits
Our in-house manufacturing setup ensures nothing but the best quality when we construct trade show booths at our seasoned California display company. Additionally, we have in-house graphic production facilities that offer large format graphics using advanced technology. We do not involve any third parties in the entire process, which ensures timely and high-quality delivery of trade show exhibits rental in California. Using 3D technology, our team of designers can create a detailed picture of your upcoming trade show booth. We are the premier booth builder in California, bringing your vision to reality!
Our trade shows in California have included collaborations with leading brands across a wide range of industries. Additionally, we understand that every event has its own requirements. We are familiar with all the exhibiting guidelines in California. Upon partnering with us, we will provide you with complete support and assistance throughout your trade show in California
With Sensations Exhibits, you'll get a unique trade show booth design and quality services because our philosophy is not just to close sales, but to develop strong relationships. With our services, you will be able to exhibit stress-free and grab maximum attention at your event. So, what are you waiting for? Get in touch with us now!
Say Goodbye To Trade Show Stress With Sensations.
Contact us today!
Our Recent Work Has Been Showcased In A Gallery
That Features Our
Exhibit Design
Creations.
Key Trade Shows to Exhibit in
Here's Something
SENSATIONAL
Our Clients Say About Us
Being a renowned booth construction company in USA, we have had the pleasure to partner with some of the most esteemed brands all over the USA. We have helped them put together a successful trade show exhibit. You will be in awe while reading these testimonials from our Happy Clients.
Our Associations With
Renowned Brands
Across The Globe
Providing Sensational Services Across All Industries.