Attractive And Engaging Trade Show Exhibit Rentals In orlando
Third largest city of USA, Orlando is the home of top trade shows and the largest exhibit hall in North America! Orlando, the windy city reserves numerous business opportunities for the exhibitors and ranks in the top most list of event calendar attracting national and international exhibitors. City that never settles for less is known for several convention centres and world-class transportation system while offering you tons of chances to seize business deals in an annual calendar. Therefore, once you plan to exhibit in the key shows taking place in Orlando, Sensations Exhibits will make your participation easier than ever! Since we are more than just trade show exhibits display company in Orlando, we ensure to create the most of your exhibiting decision!
During the journey of Sensations Exhibits spanning for more than 18 years, we have executed numerous trade show exhibits in more than 30 major locations in USA. Amongst which Orlando is one of the locations where we have executed numerous trade show rental exhibits for our domestic and international clients. Speaking of which, our years of knowledge and experience in designing, manufacturing and delivering quality trade show exhibits rental in Orlando have always assisted us in bringing the best on show floor. Other than that, wide businesses diversity of our clients is always answered with creativity. Since exhibiting in Orlando trade shows is proven extremely beneficial for more than a reason, here we present you the list of shows you must participate in.
Are You Planning A Exhibit Rental Displays ?
Planning to exhibit in above mentioned trade shows and looking for a trade show booth design company in Orlando? If so then connect with our trade show booth rental expert today! They will assist you in serving all your booth rental related requirements at the earliest. Continue reading to know more about our uniqueness and capabilities that make us stand apart from other booth rental companies in Orlando.
Local Presence: We are local! Locally present in Orlando to assist you through-out the exhibit process at an ease of our experience, knowledge and local connections.
Easy Access To Store & Warehouse: Are you a re-occurring exhibitor in Orlando? Looking for a reliable storage place/ warehousing to keep your trade show exhibit safely until next year? Sensations Exhibits has the solution to it! We acquire warehouse near to Orlando- a safe place to keep your rental exhibit until next trade show.
Regional Knowledge: Being a local trade show booth rental company, we have local knowledge of the competitive landscape and about the trends across trade show industry verticals in Orlando.
In-House Production & Printing: You don't have to struggle to out-source the production team and graphics when exhibiting in Orlando. Sensations Exhibits acquire in-house production & printing unit that enables you to participate hassle-free and cuts down the efforts and additional cost.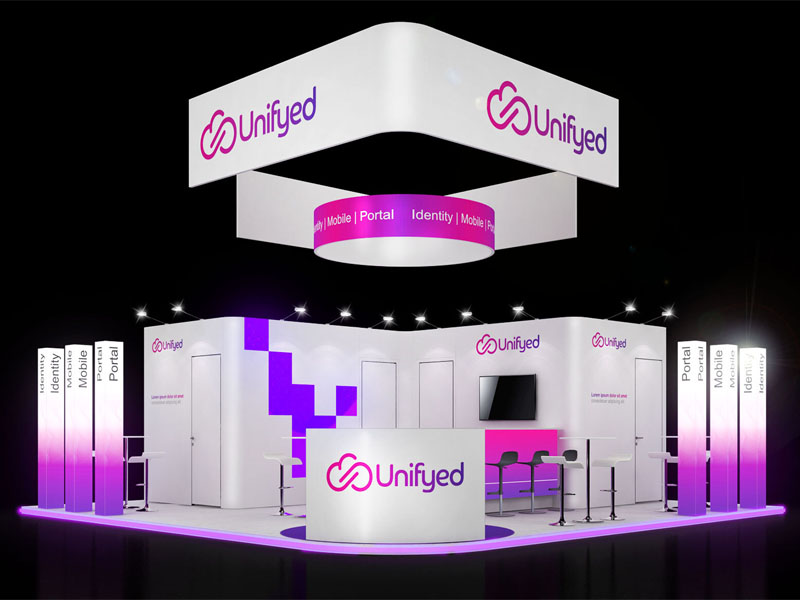 Additional Benefits Of Partnering With A Trade Show Booth Rental Design like Sensations Exhibits in Orlando!
Instant Support: We guarantee for the local on-site support- even if it is required instantly before, during or after the show. We have dedicated team appointed to provide support to our clients whenever needed to help them with their trade show exhibit.
Minimal Transportation Cost: Transportation cost in USA is the highest. However, choosing Sensations Exhibits will benefit you with minimal transportation cost of your rental exhibit in Orlando due to our local and nearby presence to the exhibition centre.
Huge Rental Inventory: To ensure our clients find the best, we offer them huge trade show exhibit rental inventory, wherein, the curated exhibits are designed by our team of creative and experienced 3D booth designers.
Pre-Set-Up Visit: You can visit our warehouse to examine the pre-set-up of your trade show exhibit before the show. This will assist you in analysing your exhibit rental prior the show. If any changes required will be executed accordingly.
Say Goodbye To Trade Show Stress With Sensations.
Contact us today!
Our Recent Work Has Been Showcased In A Gallery
That Features Our
Exhibit Design
Creations.
Here's Something
SENSATIONAL
Our Clients Say About Us
Being a renowned booth construction company in USA, we have had the pleasure to partner with some of the most esteemed brands all over the USA. We have helped them put together a successful trade show exhibit. You will be in awe while reading these testimonials from our Happy Clients.
Our Associations With
Renowned Brands
Across The Globe
Providing Sensational Services Across All Industries.